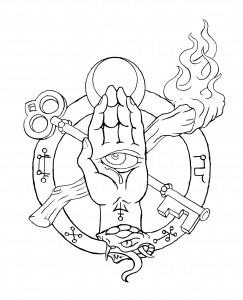 Strategic Sorcery Summer Solstice Sale!
The longest day is soon upon us. The earth is lush and green. The Gardens are bountiful. It is a time that is traditionally used for sharing, giving, and celebrating. In this spirit I want to offer a special sale on the Strategic Sorcery Course.
From now until Wednesday June 26 you can join the Strategic Sorcery Course for just $100!  
If interested in receiving the course, please send an e-mail to inominandum@gmail.com with the words STRATEGIC SORCERY in the Subject Line.
Here are a few words from people that have taken the course about the concrete and measurable results they have achieved by implementing the course material:
"I operate several websites and have done so for several years. Just recently I revisited the financial magic given in Inominandums Sorcerers Secrets book, but in the light of what I learned so far in the course. Within two days of the working my income from my main money-making site went up by 420% and it has stayed there for the last two months!"
-Malcolm
"This course is brilliant.  Not only has it given me a broad and deep understanding of spirits, energies, and the self, it has also given me powerful tools to transform my life.  In just seven months I have identified and left a toxic relationship, earned funding to pursue my Master's degree, and started a lifelong dream of writing and publishing a book.  This course will give any aspiring witch or wizard a comprehensive and effective framework to empower their practice.  I highly recommend it."
-DK
"I had already been getting excellent results with Jason Miller's books when I joined the course. It turns out it was a wise decision because I can now say that I'm ten times more successful. This stuff just works!"
-AK
I had been dealing with obnoxious, disturbing neighbors all last year, and had numerous confrontations with them. This summer, the loud bass started again, and the house -which seemed to be a "party house" was getting back into full swing for the summer. Utilizing the information from this course, I summoned Kammael, and felt the urge also to include Taphartharath to assist with the problem. I went to bed that night after performing the ritual. In the morning my daughter woke me up, to tell me that the police were next door. I looked out the window, and sure enough they were at the house. I am not sure what happened, but is seemed something had happened to them. After that, it has ceased to be the party house, in fact, it has now been quiet as a church for the last 3 months and my family and I have enjoyed a peaceful summer!
-Mark
"This course gave me a firm theoretical background, putting together everything I've known before and it also gave me a lot of new information and practical tools. So far this has been the luckiest year of my life – I am currently doing my internship in the headquarters of one of the biggest European banks and after one month I have got an amazing job offer from them. However, I turned it down because at the same time I've been offered a 5-year contract for a well-paid PhD dream job in one of the top Scandinavian universities where I will start in September. I have also met the best boyfriend in the world and we are very happy together. I have a feeling that all the best opportunities are being offered to me and I am very grateful for this, I've never felt so happy in my life before. Thank you so much!"
-Alisa
"As a traditionally trained Hindu Tantrick, the content of the course has allowed me to further consolidate my tradition from a sorcery perspective and become more innovative in its practical application. Many thanks from Australia"
-J
"The SS course is full of information and is intensely practical. It's providing me with a solid foundation in actual ritual and magical practice. I currently have 40 odd lessons and not one contains "filler", rather there's enough stuff in them to take way more than a year to complete. In fact, it's not one to complete, but to integrate into a life style if one so chooses. I am finding that I'm beginning to integrate other methods into my magical curriculum, and the SS course enables this to happen. And then there's the forum. I've used it a few times and had well thought out answers and conversations with students and those who are far ahead in their own practices."
-Foolishmagus
"I'm the Senior Instructor of the Hoshin Budo Ryu under Soke Rob Williams. What me and my students have started doing for about the last month or so is prior to beginning classes, is to make a personal offering to God and the spirits of the area.  Since we make every effort to train outdoors, what has begun happening is that the weather cooperates most days with nice breezes. The mosquitoes stay away from us, and we have begun picking up more and more spirits that hang with us. The spirits, a great deal of them are warriors are readily seen in our Auras by those that know how view Auras.
This has been a great course and one of the best decisions thus far that I
have made in a long time.  Keep it coming.  Thanks and feel free to use my
name."
– JAMES F. ALEXANDER
"The Strategic Sorcery Course has kick started my work into a whole new level, its perfect for any kind of tradition practitioner, and you will be amazed with the results, and it gets easily integrated with other systems, it gets on a lot of aspects often neglected out there, and Jason's eloquence will make sense of many subjects often obscured or confusing, rather than a particular system, this is a robust course on sorcery, on many aspects you will get your hands occupied for a long time even after completing it, do the homework, and get the most of SSC, don't let this awesome material rest in filed, put it into practice, you gotta make it happen."
-Jadean Lazuli