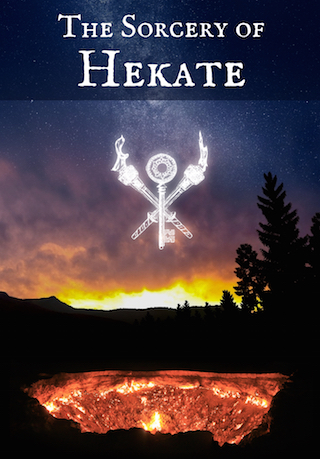 If you follow my work chances are you already know about a vision of Hekate that I received in Nepal during my Tantric training in 2000. When I came back to the States I began a relationship with the Far Beyond One that has lasted 16 years. She began to transmit a system of Sorcery to me through visions and short verbal teachings, which I would then flesh out into workable rituals and meditations.
Early on I was eager to share this, and released some material in Behutet Magazine, but it quickly became apparent that this was a mistake, and that I should take the time to develop and test this arcana in secret.
In 2006 I released some material in my book Protection and Reversal Magic, and if you take a look at the Seal of Sorcery I use as the logo for my business, you can see the influence of Hekate in the Torch and Key. Still though, the dedicated system I was working with Hekate remained secret in the background, until this year.
Over 70 people are now finishing up the first cycle of Sorcery of Hekate, which was only open to members of the Strategic Sorcery Course, and I can officially call it a success. This is the best thing I have ever produced and it is just going to keep getting better. I am now opening it to anyone that wished to join.
Unlike my other courses though, this needs to be transmitted in a similar way to a Tantric Lung – through voice rather than writing. The Sorcery of Hekate training revolves around a Mandala of Hekate – a mandala with moving parts if you will. Students need to tackle this Mandala one facet at a time. There is a precise order to it, and commitments from the student that need to be kept.
Here are the details:
WHAT DOES THE COURSE CONSIST OF?
The course will be taught through Bi-Weekly Audio Lessons and Ritual texts. There will be periodic videos to support the material. This is followed by a recorded Question and Answer session the following week where I answer any questions you submit about that lesson.
WHEN DOES IT RUN?
The first lesson will be released on June 6th. The class will run for 7 months – a Total of 13 Lessons and a special wrap-up recording as a 14th lesson.
WHAT ARE THESE COMMITMENTS YOU ARE TALKING ABOUT?
There are three main commitments:
1. You MUST do 100 repetitions of IO HEKA IO HO per day. It doesn't matter if you are at your altar, it doesnt matter if you are in the right "headspace", just do them. Do them in the car for all I care, it is about keeping this particular thread of fate running through your life during the practice. It take less than 5 minutes – if you can brush your teeth you can do the mantra. That said, there is a way to repair mistakes if you miss a few days.
2. You need to make an offering to Hekate on every New Moon during training. This can be a large ceremony, or a very simple offering of Incense and Wine while saying the Mantra just to keep the commitment. There will be other things that are strongly recommended for these days, but this is the commitment.
3. As with all my classes the material is under a vow of Secrecy.
HOW MUCH DOES IT COST?
$100 a month, for seven months, payable via paypal subscription.
CLICK HERE TO SIGN UP
IS THERE ANYTHING ELSE I SHOULD KNOW?
Yes. This material is based on received Arcana. Much of it has ties to her cult in Greece and Rome, but the practice we are doing departs significantly. If you are looking for Hekate worship or reconstruction of ancient practices, this is not what you are looking for. The reason Hekate approached me during a period of Tantric training is because the teachings she wanted to transmit required someone with that background. She is a living Goddess with a vibrant history before and after her worship in Greece and Rome.
IO HEKA IO HO!