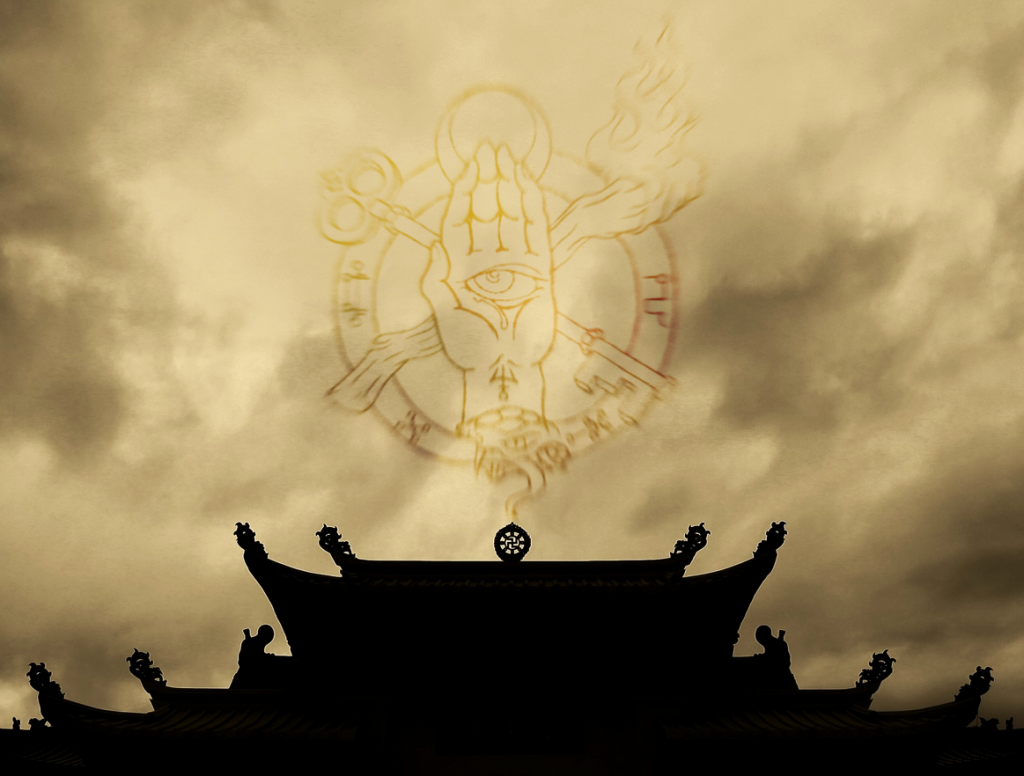 In his Open Letter to Bri Saussy, Aidan Watcher declares himself a "hard-core, traditional Eclectic from the Old Line. The Old Line being 'from before 'eclectic' was a slur!". I can relate. I myself draw upon several paths in my teaching and practice and felt a resonance with his description. Eclectic is a word that I used to use to describe myself but stopped using precisely because it has become a slur, or at least has a connotation that I don't want to be associated with. 
WHY DID ECLECTICISM BECOME A SLUR?
The question of why eclecticism became a slur is easy to answer in one word: Idiots.
You know who I am talking about. The person that grabs a Wippler book on Santeria on Monday, and by Friday have developed a version of the LBRP or Circle Opening that calls the Orishas and by the end of the weekend is referring to themselves as a  "Santero". By the end of the month, Santeria has ceased to be new and shiney and now they are on to Peruvian Shamanism.
The idiot eclectic is the person who buys a phurba because it looked cool in Uncharted 2 and declares it to be their Athame. Or maybe its the person who is High Priestess of Hekate who will argue to the death that she is a Crone because that is what she read in the Encyclopedia of Goddessses. Or maybe it is the truly wild Eclectic who's Goddess is Kali and whose God is Jesus Christ, but who knows next to nothing about either one of them. Sometimes its the I.R.A.B., which stands for I Read A Book – and of course am therefore an expert. There are so many idiots, but really that shouldn't sully eclecticism itself.
APPROPRIATION
Apart from simply not wanting to be associated with idiots, there is another aspect to eclecticism becoming a slur: Cultural Appropriation.
Appropriation is a deeper issue than just people being idiots and flitting about from one exotic thing to the next. It is people actually claiming to represent cultures, traditions, and practices that they do not represent. People offering Palo Ngangas who themselves have no knowlege or initiation are not only making themselves out to be idiots, they are misrepresenting a tradition and muddying the stream for people looking for the real deal. People claiming to teach Tantra when all they are doing is teaching sex techniques are doing the same. For a great article on this problem as it exists in the ATR's read the  SAFE Alert – Cultural Appropriation of Lucumí Religion by Non-Initiates.
WHY ECLECTICS NEED TO RECLAIM THE WORD
So with all that is wrong with it, why should anyone want to call themselves Eclectic? Why should we re-claim the word?
Because it is the best word for what a LOT of great magicians do. In fact, I would argue it is the best word for what most magicians and witches do, even those that treat it as a slur themselves.
Merriam Webster defines eclectic as:
1: selecting what appears to be best in various doctrines, methods, or styles
2: composed of elements drawn from various sources; also : heterogeneous
That beats "syncretic", "multi-form" or some of the other words I have heard people use when trying desperately not to use the word Eclectic. Some people describe themselves as "Multi-Traditional" but that is not quite the same thing. When I think of someone who is multi-traditional I think of someone like my friend who has separate altars or even rooms for each tradition that he is involved with, and treats them all as completely separate streams that should never intersect. His argument being that if Santeria and Buddhism never interacted in history it would be wrong to acknowledge them together in practice. This of course completely neglects the fact that NOW is also part of history, and no matter how many traditions you belong to, or how much to try to separate them, they meet and mix in the altar of your own spirit and mind.
IT IS NATURAL TO OUR TIME AND PLACE
Once upon a time you would have been more or less primarily exposed to the culture of your birth, and whatever mystical, religious, or magical system they had or did not have to offer. You might have bumped into people from other cultures and lands, but there would have likely been barriers to you jumping ship and doing something beyond your borders. There was some synchretism, but it was slow due to modes of travel and communication and general xenophobia that comes from lack of exposure to other cultures, as well as the harsh lessons taught by invasion, slavery, and conquest.
2500 years ago, Buddhism started spreading across Asia. It was the first really missionary religion that wanted to spread itself widely regardless of race or culture. Others followed. Manichaens, Christians, Muslims, and too many mystery cults to name started mish moshing with one another creating new and interesting things, changing the nature of the things that they came from, and generally evolving. Periods and places in intense synchretism started occuring here and there. Every time it happens people complain about the loss of what came before and others express excitement about what is to come.
The rampant syncretic approach that led to the PGM and Gnostic cults of the 2nd century, generally seen as a boon by occultists of all stripes, are bemoaned by others who see it as a corruption Khemetic religion and magic. The interface of Tantra, Sutra, and Shamanism that happened in 8th century Tibet was likewise seen by many as a corruption of all three. In a very real way, it was – even though all three still exist on their own.
Today the speed of digital communications and jet travel has created a period of intense openness and sharing unlike anything the word has ever seen. Whereas in the past one would have gone to extraordinary lengths to learn about magic or mysticism outside of your own culture or religion today you kind of have to go to extreme lengths not to.
It takes far more effort to force yourself to disregard what you know about other traditions than it does to incorporate some of that.
MANY SPIRITS AND GODS TEND TO LIKE IT
When you are a person who makes offerings to the spirits, who keeps promises and pacts, and who respects and walks well with beings, many other spirits seem to want to get in on the action – even those not of whatever tradition you belong to.
See we are spirits too, and just as we get benefit from beings who are primarily aware and active on a more subtle plane of existence than we are on, they get benefit from interacting with beings who are primarily aware and active on a more physical plane.
This doesn't mean that you should disregard tradition or bypass it or make up your own connection. It means you start there and branch out as needed, and be honest and clear when you depart from tradition – especially if you are a teacher or selling services and products.
As an example about four years ago I read a Kiumbanda, a Complete Grammer of the Art of Exu. Halfway through the book the words Maria Padhila kept repeating in my head over and over. To the point where I had trouble falling asleep. It was not an attack, it was a spirit reaching out to me for acknowledgement. The thing is that I am warry of getting involved with high maintenance spirits, especially those that might require offerings that would conflict with other spirits I work with, such as tobacco. I did not banish or anything, but I waited it out until it went away because I was absolutely sure that I was not interested in doing what was required by a Pomba Gira.
Then a couple years ago I listened to Conjureman Ali on Candelo Corner and it started all over again. Since he is a Tata I reached out for a reading to see if this is an authentic communication from Pomba Gira, and to see if there was a way to make offerings without using tobacco, taking initiation, or getting deeply involved in a tradition that would make time demands that I could not keep. He confirmed it was authentic, gave me alternate offering structure, confirmed that my  Exu's and Pomba Gira knew I had a full spiritual court but wanted to open the paths should I wish to contact them. I made a small altar, statues from Brazil, and followed the instructions and found that they actually REALLY enjoy some of the Tibetan style offerings of Tormas and such. Some Quimbandeiro's I have shared this with see how this makes sense, others would probably think its wishful thinking on my part, but oh well…
Point being, that if you are a person of power, spirits want to know you, and often they are less concerned with culture and race than human practitioners are.
IT'S HOW THINGS GROW AND IMPROVE
One of the best compliments I have ever gotten about Strategic Sorcery is that it did for magic what Bruce Lee's Jeet Kun Do did for martial arts. Sometimes traditions be the magical, martial, or material can get weighed down and stagnant under their own weight, People who can draw correlations, learn lessons from, and borrow from other traditions are valuable for keeping things moving and developing. Those who feel that all power comes from the past and from doing the same things as they have always been, or who believe that the power comes from following a text to the letter, will naturally disagree, but to me things change or they die and become pointless.
This does not mean that they change for no good reason, nor that they disregard their lineage and their past, simply that the evolution continues – always.
IT HELPS REVEAL THE QUINTESSENCE
Beyond the combination and cross-fertilization of methods and techniques is the fact that eclectics seem better able to see what lies beneath all these traditions. Unless you think that Zeus's name is actually Zeus and that humans had nothing to do with naming him that, you have to aknowlege that there is more there than we know and perhaps, to bastardize a quote from Dawkins, more than we can know. There is a quintessence of spirit that lies behind it all.
One of my favorite Andrew Chumbley quotes is from the beginning pages of the Azoetia:  "Magick is the transmutability of the Quintessence of all nature … Sorcery is the knowledge of the universal points of transmutation."
Traditions simultaneously make the quintessence accessible and usable, but also can mask that there is a quintessence that lies beyond culture and language and race and border. Something that our stone age forebearers were able to access directly before the pantheons and cults. Something that adepts still need to find if they hope to seek the initiations that lie accross the abyss.
In Part 2 I will take a look at some of the arguments against Eclecticism and while I feel they do not hold water.