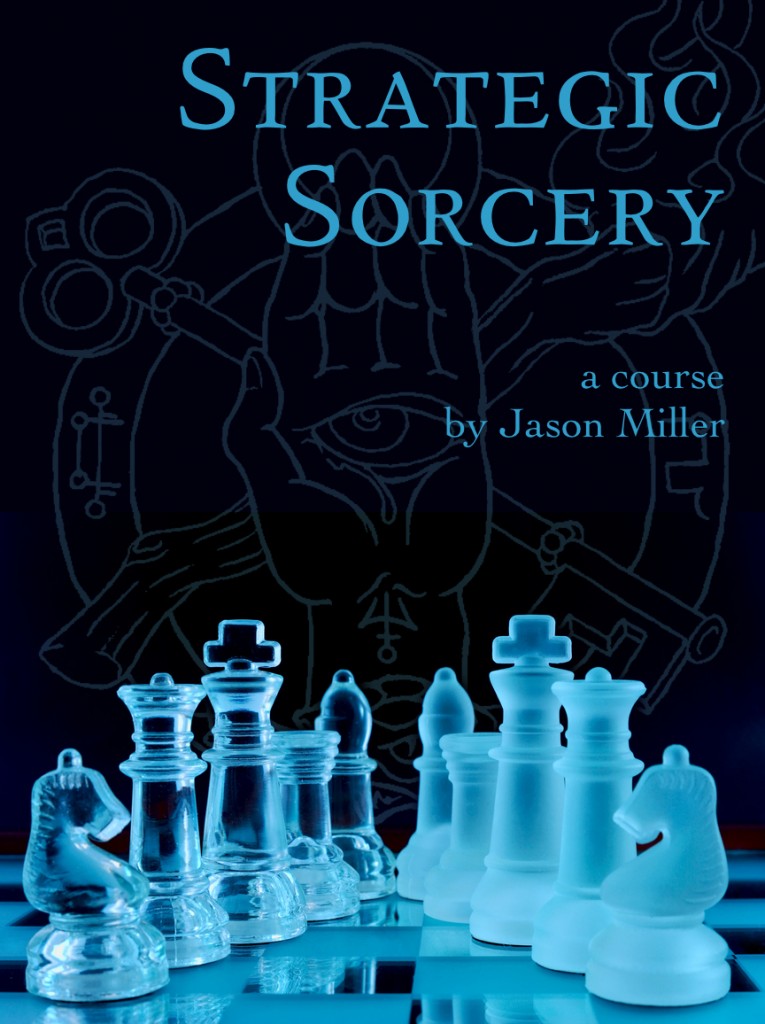 Just a reminder that the newest cycle of the Strategic Sorcery Course begins this Monday on February 2nd.
52 Lessons of the most pragmatic and effective magical training you can get.
This Cycle gets kicked off with a Global Helios Rite that is aimed at increasing the influence, power, and success of everyone involved in it. This type of catalyst can be an incredibly valuable tool on your path. Hundreds of people participating in a rite of this kind, brings a lot energy to the table and brings the attention of the Gods.
Rather than a long testimonial or field report, a while ago I had students give me one line about the course and how it effected them.
Jason Miller's Strategic Sorcery Course gives you the tools and knowledge you need to be the wizard-king of your world

When you learn to read or do math, you are given the framework or formula to do it successfully. This is what "Strategic Sorcery" does for you. It helps you set the framework to become a successful Sorcerer.

The Course is refreshingly free of a lot of the dogma that had been slowing down my training until now. A highly recommended combination of common sense and powerful techniques delivered in his very practical and down-to-earth teaching style.

For me it took meditation to a whole new level, which has helped open the roads to many more things

The practice of making offerings really transformed my relationship with the spiritual powers I was already getting to know. Learning to make offerings and create the give and take between us has helped me to really connect with them, and helped them to really help me.

It's very professional and obviously written by someone who knows his stuff and takes a practical approach.  I particularly appreciate that it's written in a realistic way as I have a busy life

It gives information that would take someone (especially a newbie) several years to accrue, if ever.

I believe this course can be really useful for adepts of all levels of advancements. Beginners will find easy to follow instructions and more advanced practitioners would benefit from incorporation of many traditions. It's like getting better, more professional tools and user manual.

Strategic Sorcery is not just a collection of highly useful and effective sorcerous tech, it's also been quite innovative. On more than one occasion I've found myself reading points that, while something similar had crossed my mind before, I'd never actually seen in print anywhere in reference to the topic.

Strategic Sorcery brings a much needed scientific approach to magical/spiritual experience, something that it often missing from personal practice. The Strategic Sorcery method encourages a logical, analyzed approach to magic and provides the tools and knowledge to apply that method in any of the varied scenarios you are likely to face.

It has helped me to improve my lot in life and gave me a slap on the wrist by showing me how lazy I had become with regards to my regular practices – especially when it comes to meditation, protection and financial workings.

I remember when I was coming up that it was easy to find books of spells and formularies, or esoteric charts and lists of correspondences, but difficult indeed to find a first-person account from a real practitioner about what actually works in practice and why.  Strategic Sorcery changed all that.

Whether I intend to adopt a particular practice myself, or just understand more about how to synthesize an effective repertoire from all the techniques a person encounters over many years of work, it is a sheer delight to read a down-to-earth description of how to not just access states of consciousness and the spirit world but also how to get what you want in *this* world from doing so.

Strategic Sorcery is real magic for real people, it goes beyond simplistic philosophy, and gives you a full spectrum of possibilities, and I would not have it any other way.

To join the course send an e-mail to me at inominandum@gmail.com with the words STRATEGIC SORCERY in the subject line. I will send you the information packet.
Or you can just click the link below and join right now.
STRATEGIC SORCERY COURSE $150
COURSE OUTLINE
1. Meditation Part 1                               2. Subtle Bodies and Channels
3. Zone Rites                                            4. Thought management
5. Offerings                                               6. Offerings 2
7. Subtle Body Power Centers          8. Prayer
9. The Elements                                     10. The Elements Part 2
11. The Planets                                        12. The Planets Part 2
13. Azoth                                                    14. Materia Magica
15. Materia 2                                            16. Materia 3
17. Amulets and Talismans               18. Tools
19. Magic of Place                                  20. Dream Sorcery
21. The Planes                                         22. Astrral Projection
23. Astral Mechanics                           24. Artificial Spirits
25. Spirits of Place                                26. Necromancy
27. Necromancy 2                                 28. Grimoire Spirits
29. Grimoire Spirits 2                          30. Grimoire Spirits 3
31. SS Mini Grimoire                            32. Spirit Houses
33. Meditation 2                                     34. 10 Principals of Strategic Sorcery
35. Set Point and how to Move it    36. Tactical Timing
37. Will and Willpower                        38. Intelligence Gathering
39. Information Sorcery                    40. Persona and Influence Work
41. Time Management                         42. Strategic Sorcery Group Work
43. Healing                                                44. Attack Magick
45. Causal Level Magick                      46. Financial Sorcery 1
47. Financial Sorcery 2                        48. Financial Sorcery 3
49. Working for others                        50. Sex Magic
51. Advancing the art of Magic         52. The Strategic Sorcerer