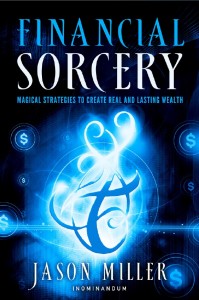 So Deb has spawned a project that is both a wonderful challenge for people to take up AND a piece of viral marketing for her site that would make Tim Ferris proud

. Needless to say I am on-board! You can click on the pink button on the right to find out more about this from Deb.
A few days ago I started to get my own ducks in a row for my New Years Projects. Some of you may have noticed the change in my banner. Gone for now is the hand with the seal of Sorcery, replaced by my Sigil of Jupiter. That is because this year is going to be ALL about Jupiterian work.
Here is some of what is coming down the pike in 2012.
WHEN KINGDOMS COME: the new Gentlemen for Jupiter Anthology that will be released by Hadean Press and have an essay from yours truly in it, tentatively titled "Strategic Sovereignty".
FINANCIAL SORCERY: My new book will be released by New Page Press in Spring/Summer and is already available for pre-order on Amazon.
THE STRATEGIC SELF:  A new course in self-possession, transformation, and transcendence. The focus is on non-ritual non-materia based techniques that will literally create a new you. This will be a bi-weekly course that is much more hands on with more personal involvement from me than Strategic Sorcery is. Because of this, space will be limited. I am still working out the length and the cost. If you are interested in the Alpha Launch, please let me know asap.
THE INCOME CLUB: This is going to be a cyber-cabal/support group, free to join, for people that wish to double their income over the course of one year. Those that accomplish it will go on to found groups all over. It's an piece of experimental magic that will be opening this Spring! Let me know if you are interested and I will put you on the list.
Lastly, this blog is going to experience a re-focusing on Financial Magic at least for the time being. Not saying I won't talk about anything else, but I feel strongly like this is the area that my work is needed in. The issue of finance is THEE issue of our times. I spoke to someone recently who accused people like RO and I and Gordon of being the magical equivalent of those Prosperity Gospel Preachers. They than went on to basically tell me that my time would be better spent learning Latin so I could translate a Grimoire like a respectable Occultist. Lord knows I benefit from the work of such people, but aren't there enough people doing that? If I am to be a prosperity preacher than so be it! That is what I want for myself, and it is what I want for you too. I want to hold a weekend retreat Strategic Sorcery retreat in Turks and Caicos and have everyone that reads this blog be able to attend because they have it like that. I want to leave the world better than I found it.
So, come on and join the New Year, New You.