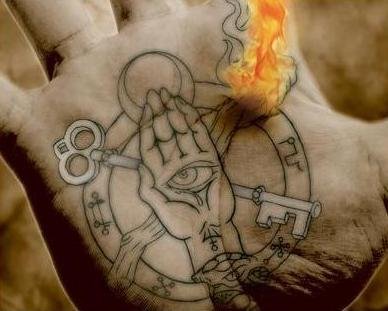 Over the last few months I have gotten some questions about how to explain Magic to people that are not Occultists, so I thought it might be useful to share some of the rules that I live by.
Here then are 7 rules that I live by when talking about magic with muggles.
Stop using the word "Muggle": If you take away nothing else from this post, make it this. Please? This is your real life, not Harry Potter. To people on the outside it reinforces the perception that this is all fantasy playacting rather than the serious study and practice that it is. To people on the inside it reinforces the "we are the elite" narrative that has made magic a source of delusion and escapism. Martial Artists don't need a special name for people that are not martial artists. Musicians don't need a special name for people that don't play instruments. You don't need a special word for people that are not into magic. You are not that special.
Don't try to convert or convince: Friend doesn't believe in magic? That's fine. Be OK with that. It's not really something people should believe in with no reason. I think people believe enough things with no reason, don't you? Respect the fact that your friend's experience has not brought him into contact with anything that makes him believe in magic. Have you ever met someone that believes in something you don't? Hopefully you're not a dick about it. Let yourself be that person for them. Connect over something else.
Have other interests: Do you have other interests? If not, get some. It makes you a better person and, believe it or not, a better Sorcerer. Plus, you will have something to talk about at parties other than magic, because let's face it, if you are not into magic, hearing someone go on and on about it is fucking boring.
Demand respect: Following rule number two is contingent on your friend or family member respecting what you do.  They don't have to practice it, but just like friends of different religions, you have to respect each others beliefs. They do not even have to believe that magic is real if they can respect the fact that your life experience has led to you to this and that magic has a long history and is widely practiced. Without that respect there can be no real friendship. I have cut off friends I have had since high school because they cannot refrain from mocking or belittling what I have dedicated my life to.
Avoid the topic of practical magic if possible: Often non-magician friends are more interested in our beliefs than in practical magic. There are even a  growing number of Pagans that do not have an interest or belief in practical Sorcery. Use this to your advantage. It is a lot easier if people in the workplace think of you as someone with slightly odd beliefs than as someone who might curse them, or is using unknown forces to get ahead. Remember, more people believe in magic than not, but that doesn't mean they think its a good thing.
Remember that most people interact with magic, they just don't call it that: I once went to a private teaching on trapping spirits or even peoples essence in a triangle and "liberating" (killing) the target by stabbing it with a Phurba. On the walk home from the teaching my friend from New Orleans mentioned that he gets freaked out by Voodoo and Sorcery. Because the teaching we attended was "Buddhist" he did not think of it as magic. He thought of it as religion. Same thing with the St Joseph House Selling kits at the Catholic Church. Same thing with some old superstitions and lucky charms. If you use this as context for what you do it can help people understand it. Also, if you use words like "prayer", "shamanism", "energy work", "meditation" and pretty much anything other than "magic", "sorcery", or "witchcraft" people tend not to even question it. A lot easier to tell the boss you need to leave early to attend a Shamanism workshop or Prayer Circle than it is to go to a Witchcraft Class.
Be clear about what you can actually do: Every now and then your non-magician friends will come to you for help. It's great if you want to help, but you should talk about expectations. Sometimes people see that you can do one thing with magic, and don't understand that does not mean you can do anything. I explain magic as an influence upon a situation. It can tip the scales of probability in one direction or another, but a talisman is not going to suddenly make you wealthy and healthy and laid by supermodels. Remember that simply by asking you for help these people are taking their first step into the unknown and have no idea what you can and cannot do. Don't get pissy at them if they think it works like in the movies, that is all they have to go on.
All the above suggestions are hinged upon you having a desire to connect with and have a real relationship with people. If you are more interested in projecting how different you are from everyone, and use magic like an 8th grader with a Pentagram and a Satanic Bible none of this is going to interest you anyway. For those of us that are trying to weave our magic into the world and have a real interest in the people around them, these are the rules that have served me well.