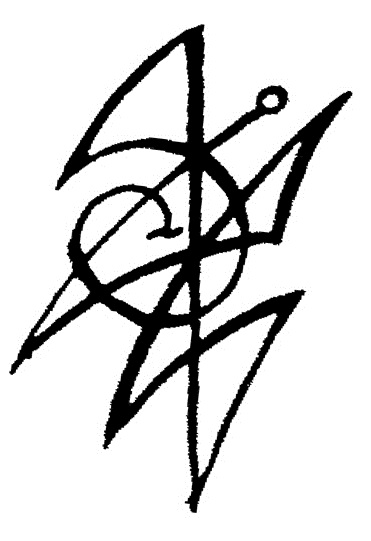 For those that don't already know, I finished writing my third book "Financial Sorcery" last week. Apart from the normal Strategic Sorcery perspective on things like using magic to help annuitize your 401k, find a job in the informal job market, automate investments, and set up secondary and passive tertiary income streams, there is a whole chapter on Jupiter that presents new rites and symbols that were revealed during the course of workings over the last year. It is these working are what MC was referring to in his field report the other day.
It is now the third hour of Jupiter on Jupiter's day, so it seems like a good time to announce some new offerings and services connected with these rites.
LIGHTNING GLYPH SEALS – $50
I will create a parchment talisman for you, based on one of the 16 "Lightning Glyphs" that Jupiter has revealed. Each one of these will be created specially for the person ordering it and patterned according to your needs with additional sigils and symbols as spiritual guidance and omens dictate. They will be consecrated and annointed with an appropriate oil individually for you in a ceremony here, and sent with an explanation of exactly what was done. There are also instructions for a short ceremony for you to perform with the glyph.  These have been proving to be extremely potent and fast working thus far.
The glyphs are:
 DRAWING MONEY
 ENTREPRENEURIAL WORK 
 HOLDING ONTO MONEY
THE JOB FINDER
FOR STEADY WORK
PROMOTION
 FINANCIAL DISCIPLINE
SWEETENING RELATIONS
FOR DOMINATING RELATIONS
 LEGAL MATTERS
PROTECTION FROM THE LAW
DEFEATING COMPETITION
VIRAL MARKETING
INTELLIGENCE GATHERING
REVERSING BAD LUCK
PURE LUCK
JUPITERIAN WEALTH VASE – $400
This is a vase inspired by the type of wealth vases made in Tibet. The interior of the Vase is set up to represent a mandala of Jupiter as it appeared to me, with the God Jupiter at the center, surrounded by the four virtue goddesses: Victoria – for overcoming obstacles, Libertas – for financial freedom, Concordia – for creating harmony and enchanting others, and Abundantia – for creating endless abundance. These in turn are each given symbolic tools in the jar in the form of certain herbs, and minerals. Surrounding them are five secret seals that are not going to appear in the book, but which manifest Jupiters might through the five elements, and finally all 16 of the lightning glyphs. Such vases can act like a wealth attracting engine that can be tuned to different needs at different times. Instructions for the care and upkeep of the case will be provided.
The vases will take 4-6 weeks for delivery as each one is made separately.
If interested in the above, write me at inominandum@gmail.com
EDIT: Ok, the post is only 3 minutes old and one of the vases sold. You guys rock.