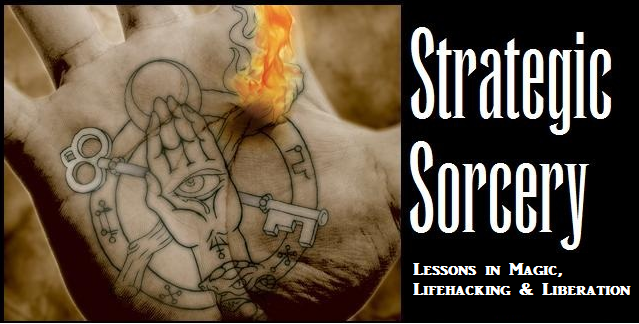 CYCLE 12 of the Strategic Sorcery Course will begin on February 1st, with instructions for a special Candlemas/Imbolc Catalyst ritual that can be performed on the second along with other people from earlier cycles on February 2nd.
52 lessons for $150 is a great deal by itself, but in the words of Mr Popeil:
BUT WAIT, THERE'S MORE!!!

 STRATEGIC SORCERY / OCCULT OF PERSONALITY DEAL:
I recently did an interview with Occult of Personality. The first hour is free to the public, the last hour (ie: the juicy stuff) is in the membership area. I have been perusing the membership area and can tell you that  they have put together is an amazing resource, you will WANT access to. It is not only the incredible people that they have interviewed, but the depth of the material
Because I am so jazzed about OCCULT OF PERSONALITY I am making a special offer:
SUBSCRIBE TO OCCULT OF PERSONALITY FOR THREE MONTHS AND I WILL LOWER THE COST OF THE  COURSE TO COVER YOUR SUBSCRIPTION. 
STEP 1:  Go HERE and join Occult of Personality for $23.85
STEP 2:  Send an E-MAIL to me inominandum@gmail.com with the words CYCLE 12 DEAL in the subject line and purchase the course for $126.
So to recap: Get 52 lessons information dense lessons on Practical magic AND Get access to  over 70 recordings, research papers, and videos + archive of old podcasts from 2006-2008 at Occult of Personality.
If you were looking for a way to kick start your new year this is it!
Write me at INOMINANDUM@GMAIL.COM for an information packet.