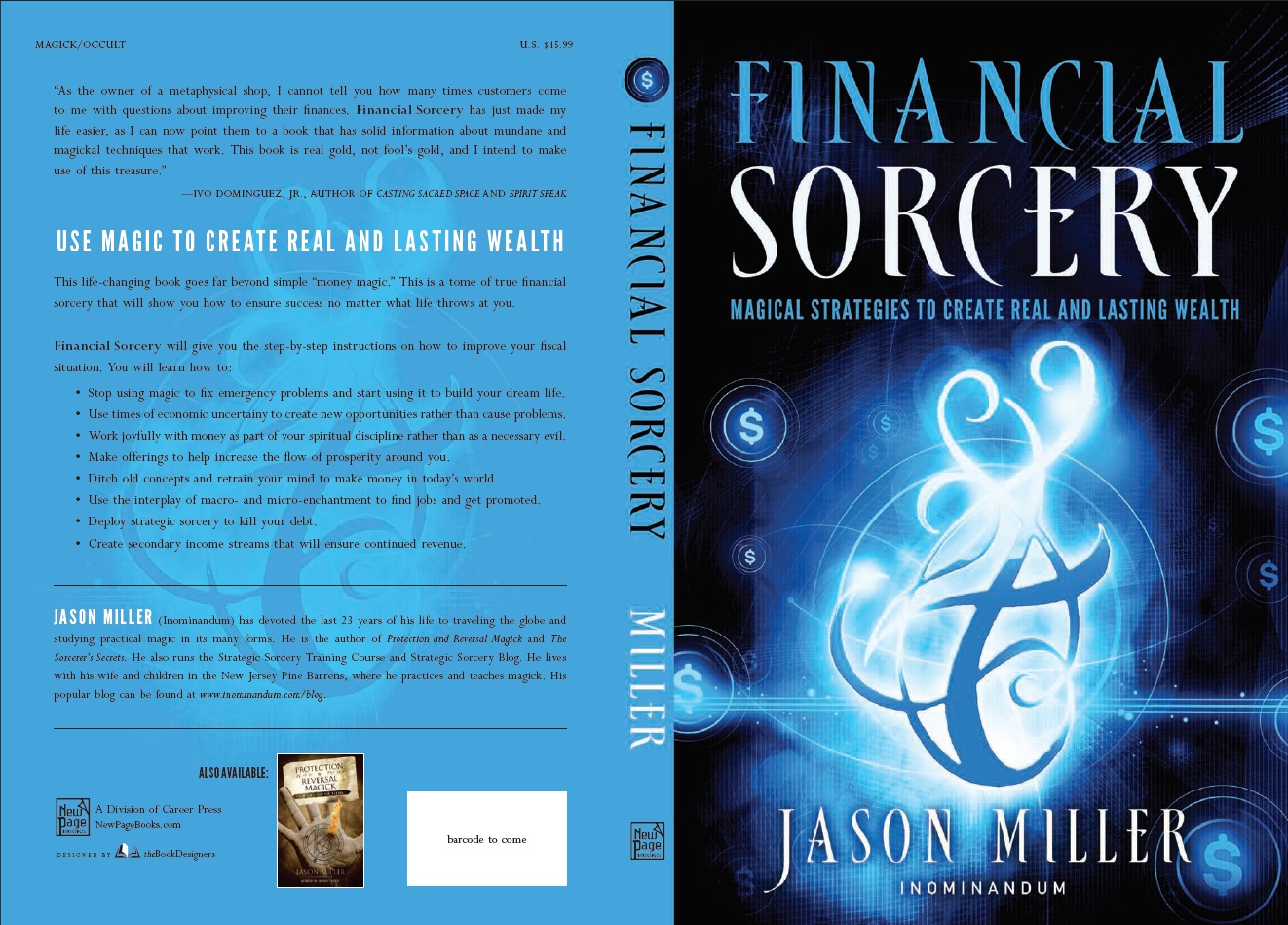 The time has come to release a sample from the book, and I always have trouble choosing which chapter to offer a sample from. SO…. Won't you help me out and do it for me?
Here are the chapters of Financial Sorcery. The ONLY chapter I am not going to release part of is "BY JOVE! Other than that, you can reply here or e-mail me with your vote at inominandum@gmail.com
FINANCIAL SORCERY
Introduction
Chapter 1            Perspective
Chaoter 2            Money and Spirit
Chapter 3            Core Skills
Chapter 4            The Powers that Be
Chapter 5            By Jove!
Chaoter 6            Your Set Point
Chapter7             Killing Debt
Chapter 8            Managing Money
Chapter 9            Job Finding Magic
Chapter 10          Promotion Magic
Chapter 11          Entrepreneurial Magic
Chapter 12          Emergency Magic
Chapter 13          Passive Income
Chapter 14          Parting Words
Let me know which you would like a sample from, and I will post it to the blog next week.
HOW TO BUY MY BOOK
Some people wonder how I prefer people to purchase my books. Here is my list in descending order:
1. From an Occult Bookstore. If you have one, you should support it. Tell them to get the book in, and while you are at it tell them to invite me out there to speak

2. From another brick and mortar location. Yes, even B&N. I live in an area of NJ that had  three bookstores within 20 miles just 3 years ago. Now we have NONE. The nearest B&N is 25 miles away and if they close, the game is over for being able to run out and grab a book somewhere.
3. Amazon.com, B&N.com, or another online seller. Even though I support the local store, the reality is that the book will probably be $5 cheaper online. If you have Amazon prime shipping is free. When buying five or six books at a time it is hard to turn away from saving 30-50 bucks just to buy it in a bookstore. Plus you can pre-order my book online.
It will also be available in Kindle, Nook, Kobo, and Sony formats as well as library and wholesaler formats. Kindle and Nook should be complete by the official release date on 7/23.
The one place you cannot buy my book is through my website. Its just too much hassle for me to deal with packaging and shipping. I will sell my book in person when I do lectures and workshops but that is it.