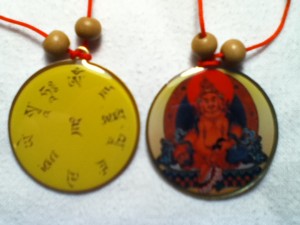 I have been working on these for months and they are finally ready…
DZAMBHALA WEALTH TALISMANS
At Sacred Space conference in February I wore one of these talismans that had Dzambhala on the front and his mantra on the back in Tibetan. Several people asked about it, so I decided to offer them to the public. So I purchased 54 of them and began the preparations to consecrate them as I did the one that I myself wear.
I began the consecration by doing a Riwo Sang Cho Fire Offering, accompanied by Lhu Sang and Shidak Sang – offerings to the underworld and land spirits.
That same afternoon I did a Dzambhala Puja where I began to accumulate the amount of mantras that I would need. At the end of each session the mantras were breathed into the talismans.
Over the course of the next several months I did a short Dzambhala Puja every day and accumulated 100,000 mantras total.
I than performed a final blessing ceremony, where I anointed the strings with wealthy way oil, and added one sandalwood bead that had money drawing oil in it, and one bead with money keeping oil in it.
Finally each of the 54 was blessed in a final puja offering to the four gate keepers and Dzambhala, and moved through the incense smoke.
These talismans are aimed at creating financial and spiritual well being for the person that wears them.
Because often the people that need them most are those that can least afford an expensive talisman, I am charging only $50 a piece for these talismans.
Unlike other items I have offered here, you will not have to wait months for delivery because they are already completed. They will be mailed within one week of placing an order or I will refund your money and give you the talisman for free.
To order, please pay via paypal.com using inominandum@gmail.com as the destination for payment.  Make sure you include your address in the paypal order.
NOTE: Four were sold before I posted this and 3 more sold in the last half hour, so hurry because supply is limited. I will probably offer another 54 at some point, but it takes a long time to accumulate 100,000 mantras so it wont be for a while.